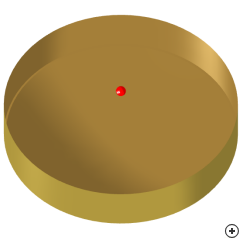 Image of the Parabolic focus pattern fed reflector with shroud
Axisymmetric prime focus paraboloidal reflectors provide a good compromise between performance and cost, but can suffer from high-sidelobe levels if designed for high efficiency. Here a simple, practical, low-cost method is presented for suppressing close-in sidelobes to comply with stringent radiation pattern envelope specifications.
The antenna consists of an axisymmetric parabolic reflector and a metallic cylindrical shroud which extends from the rim of the reflector dish. In the antenna presented here, the physical feed antenna is substituted by a theoretical / simulated / measured pattern, simplifying the overall model and simulation accuracy is relaxed in favor of improved runtimes.
A typical feed is a horn antenna designed to give the desired illumination level of the paraboloid edges, e.g. -10 dB, with approximately equal E- and H-plane beamwidths