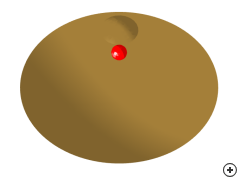 Image of the Pattern fed Gregorian Axisymmetrical dual reflector
The Pattern-fed Gregorian dual-reflector antenna facilitates design and investigation of the Gregorian reflector independently from the feed antenna structure. This approach is useful at stages in a design when the physical feed details are not important, or where a feed pattern other than that of a pyramidal horn is of interest.
A detailed overview of the Horn-fed Gregorian dual-reflector antenna also included in the database can be found here.