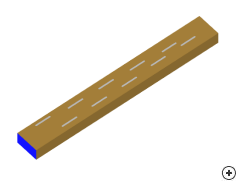 Image of the Traveling wave slotted guide array.
Compared to the Resonant waveguide slot array that is already available in Magus, the Traveling wave slotted guide array has some impressive advantages. It can handle higher power and operates over a much wider band (up to 25% bandwidth), where the resonant array suffers from a decreasing bandwidth as the number of elements (and hence gain) increases, whilst this array does not.
The slots of the Traveling wave slotted guide array are spaced equally on either side of the guide center. The physical distance between each of the slots determines the relative phase shift of each element in the array. Because the physical distance is fixed, the phase shift varies across the band of operation. The end result of this is that the array has a squint that varies with frequency. ...
The image below shows the gain patterns of a 100 slot Traveling wave slotted guide array designed at 7 GHz with 34 dBi gain at the center frequency, simulated over a wide frequency range. Note a total of 7 degrees shift in squint angle over a 10% change in center frequency.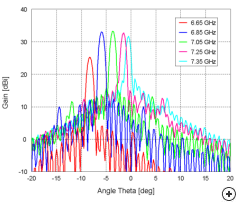 Traveling wave slotted guide array squint angle pattern shift vs frequency.
In a radar applications, this frequency-dependent squint (shown in the previous image) has to be removed by processing the returned signal to avoid ghosting.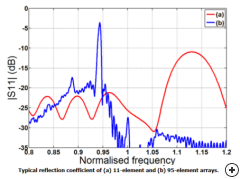 Typical S11 for (a) 11-element and (b) 95 element arrays.